MF Hussainwas called Picasso of India by the Forbes magazine for his charismatic and redefined art. However, in India, this great painter of the last century was not held in the same esteem, especially because of his tendency to paint Hindu Gods and Hindu people nude. Almost all his paintings depict, Mother Teresa and Muslim women in full clothes whereas all the Hindu Goddesses and women, including Bharatmata has been depicted nude and in a very shameful position.
He usually painted on a particular topic or theme in series and you will find many of MF Hussain paintings dedicated to Mahatma Gandhi, the Mahabharata, the Ramayana, the British Rule, Mother Teresa and motifs from rural and urban Indian life.
Many of his paintings attracted a lot of wrath from the Indian, especially the Hindu organizations.Once or twice, his house was attacked, and paintings vandalized. That is why, later on he shifted abroad never to come back.
Here are the top 10 most controversial MF Hussain Paintings that generated lots of uproar:
1. Goddess Durga in Sexual Union with Tiger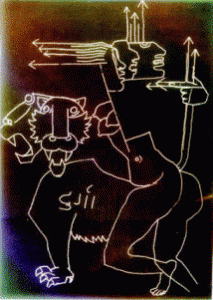 Goddess Durga is the most revered deity of the Hindu Community. In this particular painting, the Goddess has been seen in sexual union with the tiger. According to tradition, Goddess Durga sits on a fierce tiger, destroys the demon, and ensures the victory of good over evil. But this painting disturbs the pious image of Durga which caused lots of debate.
Comments
comments