From personal fitness to on-screen fitness, health matters a lot. When you have a look at the B-world, you will come across a number of celebrities, who went on from being fat to fit. Whether it was for their personal preference or on-screen demands, fit looks are always welcome. The fans, too, cheer the change from bulky physique to a slim and fit body. In fact, most of the celebrities who went from fat to fit enjoyed more fanfare after the transformation.
Here are ten Bollywood celebs who belong to this category.
1. Alia Bhatt – Student of Year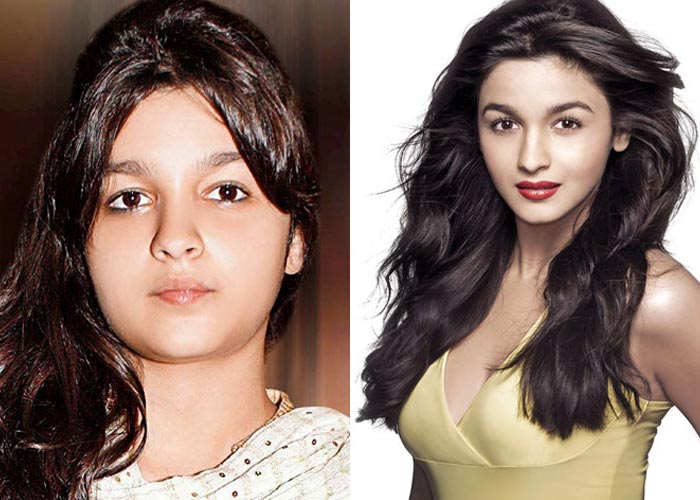 Well, Alia Bhatt is the heartthrob of millions of fans. Presently, she is one of the most eminent actresses of the B-world. Ever since she had made her appearance in the movie 'Student of Year', her popularity has soared. Presently, you may not be able to imagine the past looks of the star if you had not watched her. From a massive 70 Kg, enough for a woman of her height, she came down to just 54 Kg. All these happened in a matter of three months. The two keys that led to her success with the physique were dieting and regular exercise.
2. Sonam Kapoor – The girl in Saawariya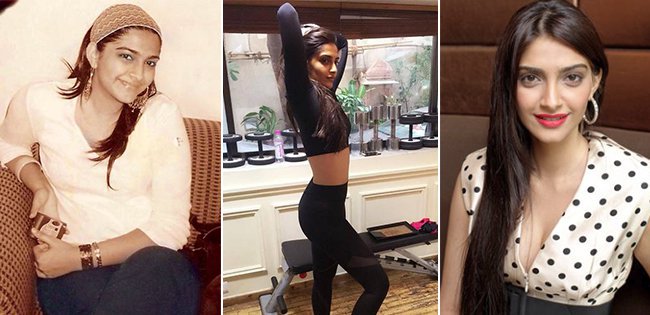 This icon is an example of how grit can get you a sleek body from a bulky figure. What a transformation from fat to fit! She was 86 Kg while in Singapore. After she returned, she became health conscious. She got the chance to appear in the lead role in 'Saawariya'. It was then she started going to the gym regularly. The fat accumulation was mainly due to the unhealthy diet, she used to have back in Singapore. She lost around 29 Kg weight and presently weighs around 57 Kg. Well, swimming, Kathak and yoga did do her some good.
[ Read: Check Out These Mind Blowing Pictures Of Sonam Kapoor In Bikni ]
3. Sonakshi Sinha – The one who lost nearly one-third of her weight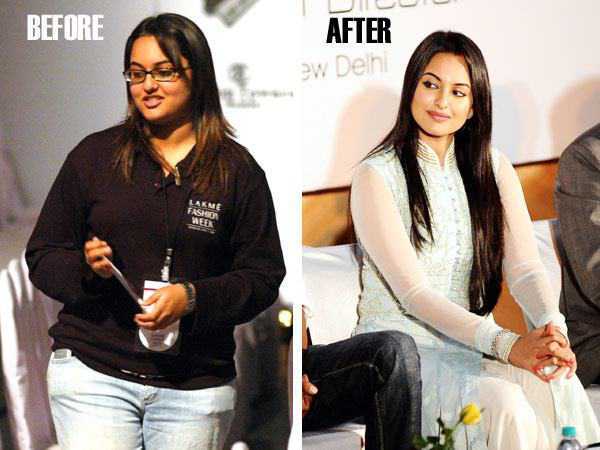 If you are one of her fans, you would definitely appreciate her weight loss. She got rid of nearly one-third of her weight. Previously, her she was around 94Kg, which came down to 60 after regular exercise and gym. She used to go to the workout for five days a week. Yoga and cardio were also responsible for this positive response. Yes, outdoor games and cardio also helped in the process. The reasons for her bulky figure were lack of exercise and a lot of junk food. Now look at her figure, it's perfect for the actress.
4. Parineeti Chopra – Finally, after a long struggle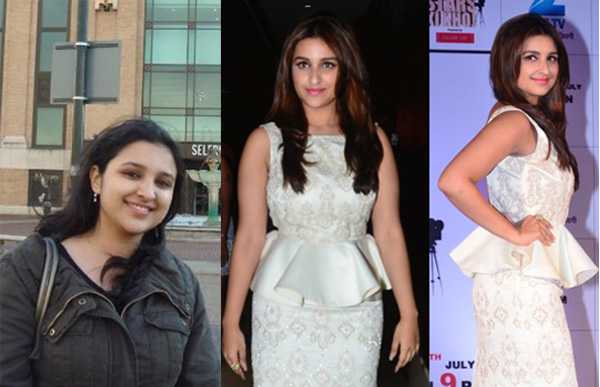 Another great example set before the fans, by Bollywood star Parineeti Chopra, she reduced her weight from 86 Kg to 58 Kg in a short time. She is the cousin of Priyanka Chopra, Miss World, Parineeti Chopra appeared in movies like 'Ladies vs Ricky Bahl' and 'Ishaqzaade'. Her strategies for gaining a slim figure were similar to the other actors. She went for regular exercise, started meditation and yoga and stuck to a well-formulated diet plan. All these factors contributed to her efforts in reducing the flab from her body. She went on from fat to fit after a long struggle.
[ Read: 10 Bollywood Celebrities Who Gained Weight for Film Roles ]
5. Kareena Kapoor – From 77 to 57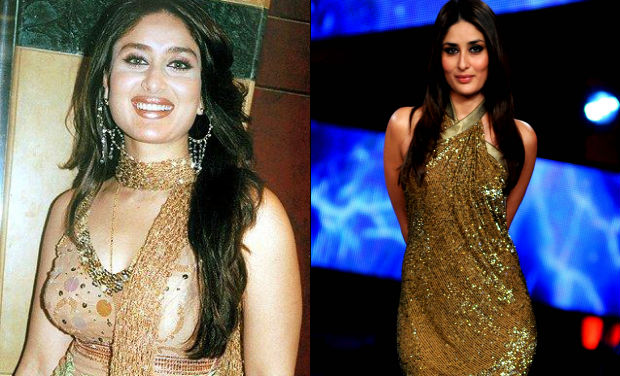 Well, you might be wondering what's special about the zero figure of this Bollywood celebrity. She was criticized for being too heavy in a number of films. In fact, she was 77 kg. It has come down to 57 Kg, much to the pleasure of her fans. She was born in 1980 and during the debut, she had a lot of extra pounds in her body. Even during the film 'Don', she was criticized for being overweight. This happened particularly after her appearance in the song 'Yeh mera dil pyaar ka deewana'. However, she returned with a different figure in 'Tashaan'. Regular exercise, walking and dieting were the secrets of her journey from fat to fit.
6. Esha Deol – Remember the girl in Dhoom?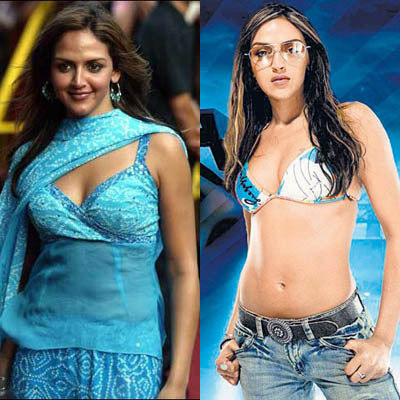 Apart from being a talented actress, Esha Deol is a good dancer. She has several fans, thanks to her talents. She is the daughter of Hema Malini and Dharmendra, both eminent personalities in Indian Cinema. Well, she was over 70 kg, but thanks to regular walking and dieting, she has come down to 56 Kg. When she appeared in 'Koi mere dil se Pooche', she had a lot of flab in her body, which she lost in the course of time. When she appeared in 'Dhoom', she had a transformed look which mesmerized her fans. Dancing, swimming and cardiovascular exercise helped her to get slim figure.
7. Zarine Khan – Character Dheela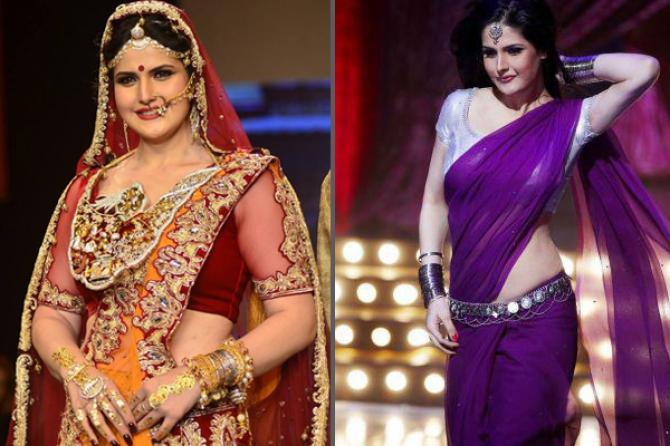 Remember the 'Character Dheela' girl? Well, she has shown a massive transformation from 100 Kg to 57 Kg, shedding nearly half of her body weight. She had started her career with the movie 'Veer'. Her 100 Kg bulky body resulted in a lot of criticism and her role as the princess in the movie was a subject of mockery for quite some time. Well, this did not stop her from appearing in other movies later on, like 'Houseful 2'. She was just 57 Kg then, thanks to jogging, pilates and swimming. Well, she also kept away from junk food for quite a long time to shed the extra kilos.
8. Bhumi Pednekar – Recall Dum Laga Ke Haisha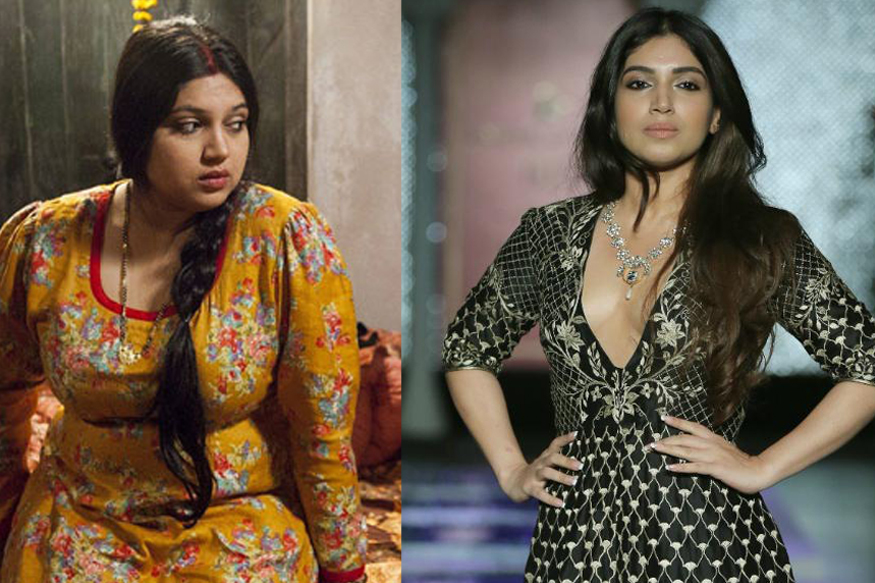 You must have remembered this actress from 'Dum Laga Ke Haisha'. Well, she, too, faced a tough time dealing with fat. However, it was not long before she reduced the extra flab from her body and went on from being fat to fit. Her weight dropped from 72 Kg to 50 kg. Well, she had to put on more weight for the movie 'Dum Laga Ke Haisha', but soon after it was over, she succeeded in getting rid of the weight and gained a slim figure. Well, she did not compromise with the food she liked to achieve this feat.
9. Katrina Kaif – Think of Sheila or Munni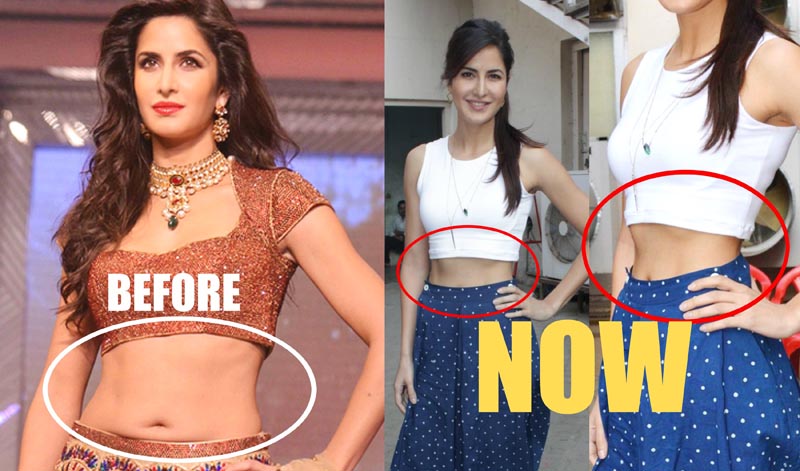 Whether its Sheela or Munni, you would not be able to enjoy the graceful looks of the actress, had she didn't shed the extra weight. Like most other contemporary B-world stars, she had lots of baby fat in her body when she entered cinemas. However, you might think that she was never fat. Accepted, but Katrina was neither slim. Altogether, she needed to drop a lot of weight to get the present physique. You would agree that her previous looks lacked the sharp jawline, which now defines her facial looks.
10. Arjun Kapoor – The only male actor in the list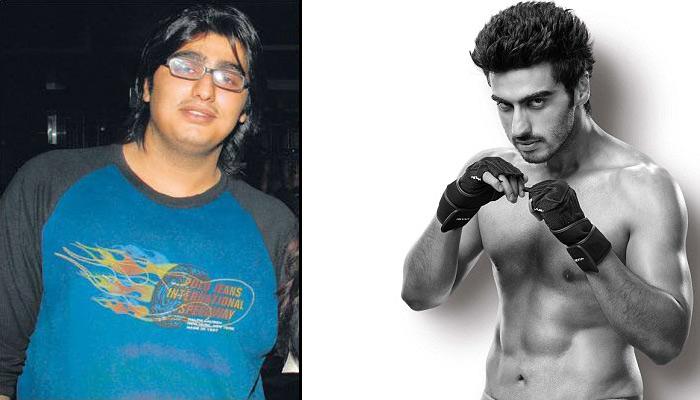 While we had been busy with the gorgeous ladies of Bollywood, the only male celebrity in the list happens to be Arjun Kapoor. This proves that the actors too, are conscious about their health. He initially weighed around 130 kilos, which came down to 80 kilos after a four-year struggle. When he first appeared in movies with the movie 'Ishaqzaade, he flaunted his fab body and six pack abs. However, he had to decide otherwise when he proceeded in his career.
Well, you might have other names at the back of your head with similar transformations. The most prominent names have been enlisted here, along with the flicks that brought them to fame. It is a necessity to get a slim figure to rise to fame in Bollywood, as competition is high and critics are many. Particularly for dancers, maintaining a slim figure is a mandate. If you have a name in mind that you want to share, please leave a comment below!
Comments
comments