Seems like the love is in air. Couples are tying in the knots. Generally marriages doesn't last long when it comes to Bollywood and TV industries. But exceptions are always there. Anyways, after Karan Patel's marriage, now it's time to his Co star divyanka to tie in the knot with her fiance Vivek Dahliya. Yes you heard it right. This Ye hai mohbattein couple is going to get married very soon.
From some past few months, we have seen them together in the show, box office preimuiy league and in award functions too. We have seen them together and happy.
Divyanka tripathi is a television actress who is now a leading star in a successful leading show ye hai mohabbatien. She belongs to Bhopal and has been a shooter too. Divyanka has won the title of MS Madhya Pradesh earlier. She made her debut from the serial Banu Mai Teri dulhan at Zee TV. Coming to her past, she has been in a relationship with her Co star Sharad Malhotra from her first serial. They had a serious relationship for a very long time. But unfortunately, their relationship couldn't work and hence they broke up. Sharad is now doing a serial named Kasam tere pyar ki at colors. The common thing between both of them is that they are doing the daily soaps of same production house e.i balaji telefilms.
After Divyanka's breakup, she fell in love with her Co star Vivek who is playing a role of Acp Abhishek in her show. This time, they didn't take much time and decided to get engaged first. Within 3-4 months, the couple got engaged and started planning about their wedding.
Now finally the day is going to come. They are getting married on 8th July at Bhopal. However the reception would be in Chandigarh from where vivek belongs to.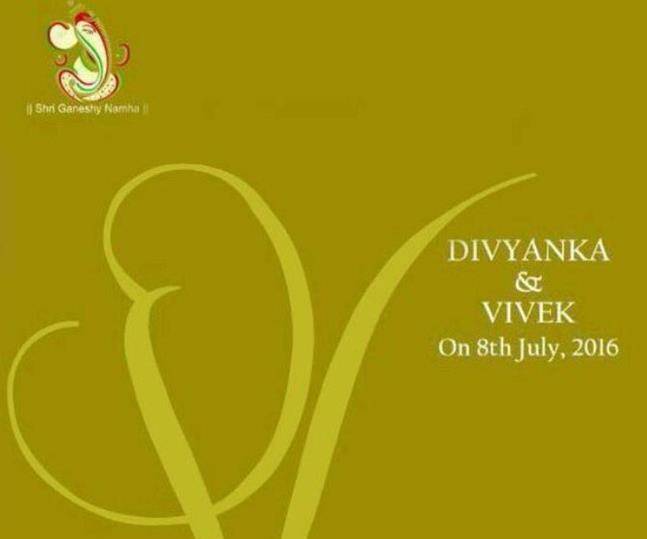 Here are the wedding card of the couple who is going to get marry very soon.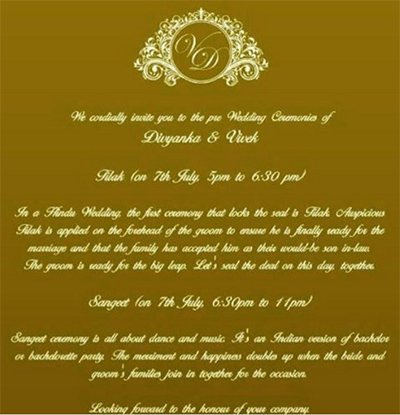 So finally the wedding cards are also out. Few days back, we have seen divyanka's bridal photoshoot which got viral on social media. And now the wedding card. Seems like the couple is really looking forward for their marriage date and seems to be really excited. Not bad han!
All we can say is a very congratulations to the couple and we pray for their bright future. Keep loving each other.
So what do you think about it ? The card, the photos and their excitement? Please share your valuable feedback to us. We are looking forward to hear from you.
Comments
comments