So what if you get a notice today of changing the house in a very short time? I am sure you will be disturbed. Maybe you have enough money but can't find the suitable home or maybe you even don't have much money to take a room on rent. But what about those lift takers, sweepers,plumbers or rickshaw walas? For whose, buying a home is just impossible.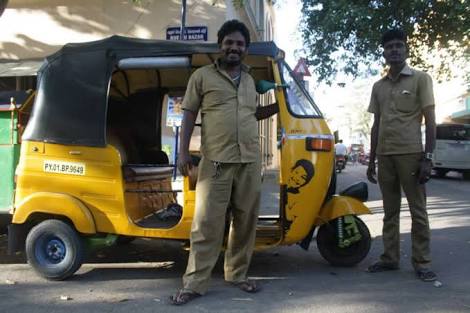 We are talking about those people for whom buying a house is like a dream come true. And what's the reason behind this? Because of the inflation rate which is far away than their income. These people earn 5-6k a month which is not at all sufficient for living a livelihood. As in today's time, the monthly grossery is of 2-3k minimum where you all know that the Dal's price is touching the sky and not at all affordable for a common man. Even a middle class people make it occasionally so for lower middle, it's not like once in a moon. And then children's education, clothing, bills and the unbearable rent of course.
And then we bargain for 2-5 rs with every lower class person. Strange. Isn't it? Well, so you can easily imagine how difficult it is for a common lower middle class man to buy his own house that too in a city like Mumbai where some of our Bollywood celebs too live in rented place. But he did it. Yes he did.
We have a story of a common auto rickshaw wala who dared to dream of his own house in Mumbai and even made it true. How? Let's read.
Well, Vijay, a man who drives an auto and generally known as autowala lives in Mumbai with his family. His family consist many people that is his mother, his father, wife and two children in one bedroom home.  He lives with them in a chawl of Mumbai, for those who isn't much familiar with the word, chawl means a building where many people live with their families and generally face water problem, electricity problem and of course the cleanliness issue. They have to rush in a line for filling their buckets from water as they don't have separate line of water as we do. They face electricity cut for at least twice a day or sometime for many days. Imagine their lives. Godd! Blessed we are..
Well Vijay wanted to have his own house in Mumbai but in a salary of rs 8000 a month, it wasn't possible. He still tried and his dreams came true with the help of axis bank.
Yes, he got the Asha home loans of rs 28 lakh and is now happy by owning a house with his nameplate.
Yes, like Vijay, many people tried the same and were successful.
So what are you waiting for? If you want to get your own house and is tired of hearing no from banks, just go and apply to asha loans. Am sure you won't be disappointed.
Try it. He dared to dream and even won. So let's take a rush and have your own home.
Comments
comments