Teen life is marred by a lot of change, one of which is the appearance of blackheads on one's face and neck. These are small bumps that appear due to the hair follicles being clogged. They are named so because the surface of the skin looks black or dark.
A mild form of acne or pimples, blackheads can be seen on the face and the back, neck, chest arms and shoulders. Acne is common, in fact it affects about 50 million Americans and is the commonest among all skin disorders here.
Causes
When the opening of hair follicles in the skin are clogged or blocked, blackheads result. Each hair follicle contains one strand of hair and an oil-producing sebaceous gland known as sebum, that keeps your skin soft and supple. When the skin opens over the bump, a blackhead forms.
Here are some leading causes of blackheads:
Over secretion of oil, a fallout of puberty
Changes due to pregnancy, birth control pills and menstrual periods are secondary reasons
Use of cleansers, cosmetics and clothes that block pores
Intense sweating or excessive humidity
Faulty diet, medication or disease that result in quick turnover of skin cells
Steroid drugs
Insufficient face washing
How to get rid of blackheads
1. Baking Soda
Baking soda treats blackheads very effectively by clearing the skin of all dirt and debris. To use it, make a paste of two teaspoons of baking soda and mineral water. Apply it on the affected parts of your face and massage it gently. Let dry for a few minutes before washing off with warm water. Repeat this remedy twice a week.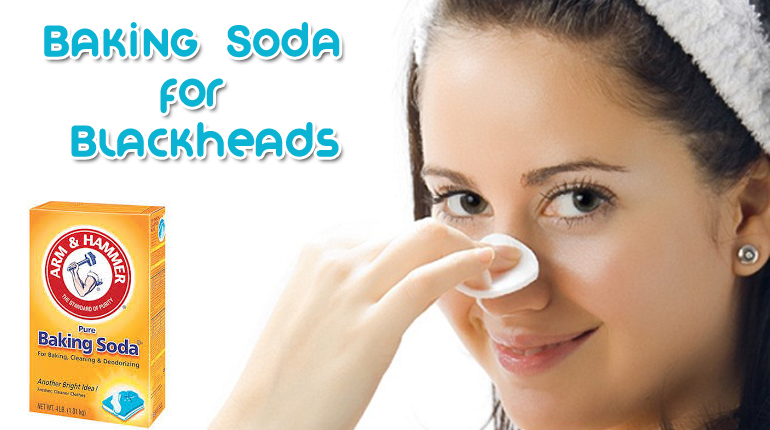 Why baking soda works
The mild abrasive properties of baking soda help clean the skin and get rid of blackheads. It is also a good exfoliator that leaves the skin feeling smooth while also opening up clogged pores that contain dead skin cells. Baking soda also helps to neutralize the pH level of your skin, which allows it to minimize oil production, thereby preventing the appearance of blackheads. It also cleanses the skin well and without the use of harsh chemicals.
2. Clay Mask
Once a week, it's good to apply a clay mask on your face. It will remove all the deep-seated blackheads under your skin. To use this mask, wet your face and cleanse it normally. Pat dry, but leave your skin feeling slightly damp. Apply the mask to your face and let it dry for 15 minutes. Then, rinse your face with water and feel clean with your blackheads gone.
Why clay works:
The clay content in this mask tears open the pores and yanks out bacteria that it comes in contact with. This makes your skin smooth and soft and gets rid of all blackheads that were on your nose, cheeks, lips and back and in neighboring areas.
3. Pore strips
This might hurt a bit, but by applying pore cleaning strips on your blackheads near your nose and forehead can give you a clean complexion. Before you use these strips, wash your face and ensure that your nose and forehead slightly damp. Apply the strips to your skin and keep them on for about 10 minutes and remove them gently. Dab on some antiseptic on your face and check to see if your blackheads have disappeared.
Why pore strips work
Pore strips don't do anything to prevent the recurrence of blackheads because they do nothing to reduce sebum production. What they do is to make your pores appear smaller, if only temporarily.
4. Egg White Mask
You can tighten your pores and so reduce your chances of getting blackheads by using an egg white mask. Egg whites are nutrient-rich and dry lesser than other home remedies. You can make your mask by separating the yolk from the white. Rinse your face, pat dry and apply the egg white on your face. Apply it in layers and let each layer dry before moving on to the next.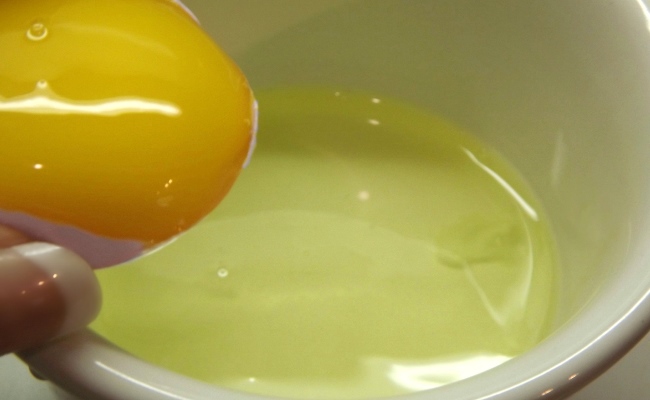 Why egg white masks work
Egg whites are abundant in minerals and vitamins. In fact, the mineral selenium prevents acne outbreaks. Egg white's protein content is also instrumental in tightening skin pores, so bacteria that lead to acne don't stand a chance of breeding here.
5. Chemical Peels
Let your cosmetologist examine your face and suggest a chemical peel to remove your blackheads. Acids are used to remove skin that's blemished with blackheads. However, chemical peels are only good for removing blackheads, they aren't a cure for them.
AHA peels are excellent for getting rid of the skin of blackheads. They work hard to dissolve the layers of the skin near the epidermis by penetrating the skin very lightly. In the process, they open up clogged pores and release unwanted substances. So, when the skin heals, the pores are open and blackheads don't recur.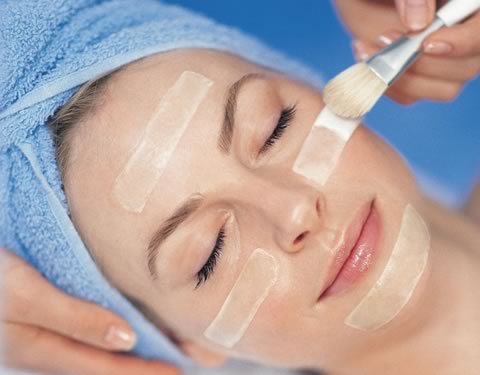 Why chemical peels work
Chemical peels usually contain salicylic acid that is very good for getting rid of blackheads, whiteheads and an over oily skin.
6. Cinnamon
As a spice, cinnamon makes a good face mask that removes blackheads effectively. Make a mask by mixing one part cinnamon with two parts of honey. Leave it on for about 20 minutes and wash it off, following it up with a moisturizer. Use this every day for blemish-free skin.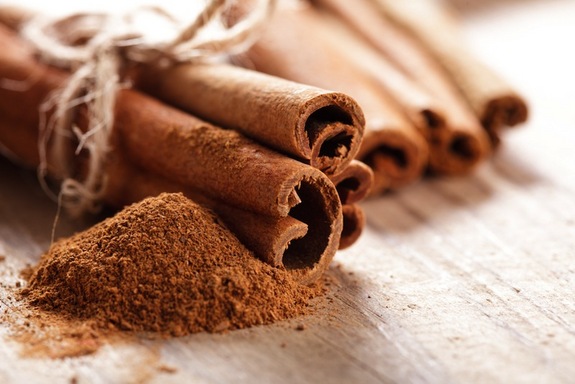 Why cinnamon works
Cinnamon is anti-bacterial in nature, a property that helps remove blackheads and prevent its recurrence.
7. Oatmeal
Make a paste of oatmeal and yogurt as a mask for blackhead removal. Make a puree of four tomatoes and mix a teaspoon of honey into it. Make it thick enough for a face mask and scrub it on your face. Wash it off after 10 minutes. Do this once a week for clear skin. Alternatively, make a paste two parts of oatmeal and three parts of yogurt with a few drops of olive oil and lemon juice. Apply the paste on your entire face and leave it on for a few minutes. Wash your face with water and feel its smoothness.
Why oatmeal works
Oatmeal benefits several skin problems, like blackheads and sensitive skin. It is a natural cleanser and exfoliating agent that loosens open clogged pores that form blackheads. It Its antioxidant content also have anti-inflammatory properties.
8. Honey
Honey is good for blackheads and oily skin. It not only keeps the skin pores hydrated, but also tightens them to give you a clear and clean complexion. To get the best out of honey, apply some honey on your face and leave it on for a few minutes. Next, rinse your face with warm water.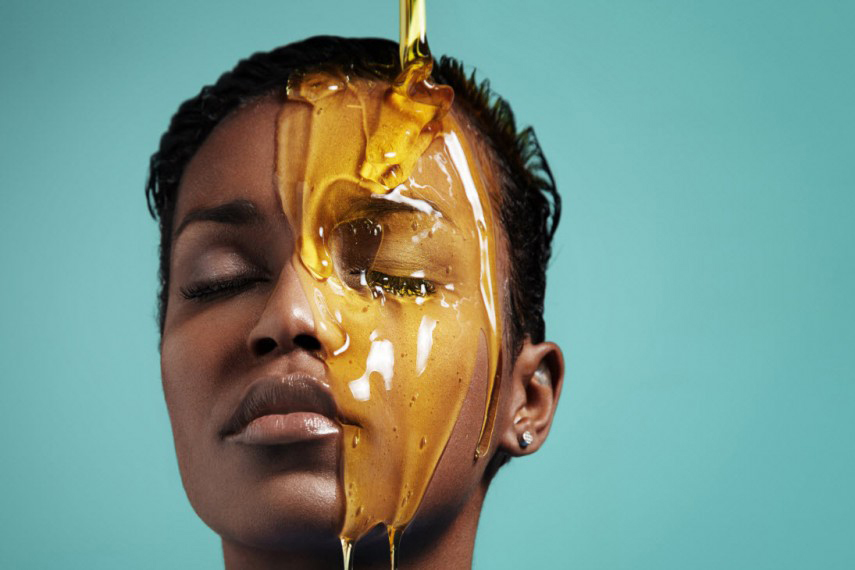 Why honey works
The benefits of honey are too many to be listed, but it is known for being antibacterial. This property helps treat blackheads. By adding lemon juice to the mix, your skin brightens while sugar acts as an exfoliator that gets rid of all dead skin.
9. Exfoliate Your Blackheads
Exfoliating your blackheads with an abrasive scrubbing product like salt can remove small blemishes. Regular exfoliations will keep your skin looking smooth and polished. Apply your scrubbing facial cleanser on a damp wash cloth and scrub the skin in a circular motion. Alternatively, you could use a shower gel and a bristled shower brush to get beneficial exfoliation.
Why exfoliate works
Exfoliate is a natural abrasive compound that can get rid of all the dead cells on the skin surface so that blackheads don't recur. It removes dead cells, grime, dirt, excessive oil, pollution and germs. If your skin has peeled, salt leaves it feeling smooth and supple.
10. Lemon and Honey
One sure shot remedy for blackheads is the combination of lemon and honey. It can be used by combining a few drops of honey and lemon with a little sugar. When rubbed on the face on blackheads and rinsed, it cleanses the face of these blemishes.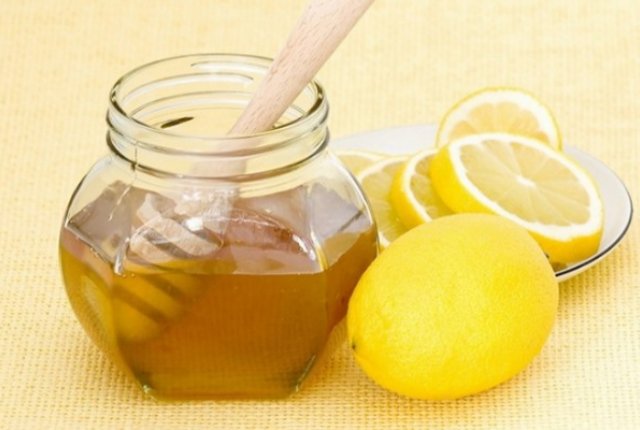 Why lemon and honey work
Lemon juice being acidic, acts on blackheads as an astringent and therefore reduces oil on your face. Lemon juice works by limiting the body tissues and pushes all excessive oil out of the skin. The citric acid in lemon juice plays an antiseptic role. So, it helps reduce the bacteria that reside on the surface of the skin.
11. Green Tea
Green tea is a very natural way of treating blackheads. Its abundance of vitamins and antioxidants breaks up the excessive oil present in the skin and thereby reduces inflammation. To use green tea, mix a part of dry green tea leaves in water. Scrub it gently over the affected parts for a few minutes before washing it off. By scrubbing your face with green tea leaves, the oiliness of your skin reduces and your pores open.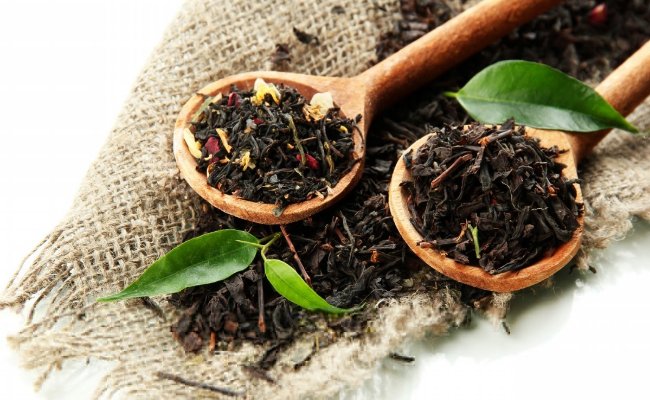 Why green tea works
It is rich in antioxidants, so it helps in reducing oily skin and protecting the skin from damage in the future.
Conclusion
Now that you know what you can do to get rid of those ugly blemishes, known as blackheads, just step into your kitchen and find the right remedy for this.
Comments
comments