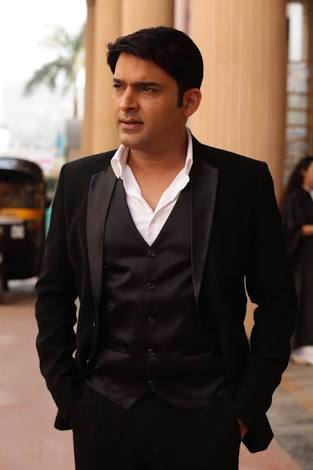 We all know kapil sharma very well because of his amazing comedy. He has been on news due to his comedy and became a big star. But from past few days his time is testing him. He has been in many controversies during this time period. The famous star comedian and actor Kapil Sharma is again in controversies. This time not with any channel or any other comedian. The matter is totally different this time.
In a recent tweet Kapil Sharma sarcastically commented on P.M Modi's "Achhe Din". This led him to be in news in positive as well as negative way. Actually Kapil tweeted angrily because of an incident which took place recently. BMC (brihanmumbai municipal corporation) officials asked for 5 lakh bribe for kapil's office. After which Kapil got angry and took the matter to twitter where he tagged prime minister Modi and asked " kya yeah hair achhe din".
I am paying 15 cr income tax from last 5 year n still i have to pay 5 lacs bribe to BMC office for making my office @narendramodi

— KAPIL (@KapilSharmaK9) September 9, 2016
Yeh hain aapke achhe din ? @narendramodi

— KAPIL (@KapilSharmaK9) September 9, 2016
After this tweet another matter came into limelight that the actor Kapil Sharma have a property at andheri where he had done unauthorized construction and the same was demolished by BMC on 4th August. Kapil Sharma also tweeted "I am paying 15cr income tax from last 5 years n still I have to pay 5 lacs bribe to BMC office for making my office @narendramodi". In reply of Kapil's tweet the chief minister of Maharashtra Devendra Fadnavis tweeted that strict actions will be taken against the officials who asked for bribe.
Kapilbhai pls provide all info.
Have directed MC,BMC to take strictest action.
We will not spare the culprit.@KapilSharmaK9 @narendramodi

— Devendra Fadnavis (@Dev_Fadnavis) September 9, 2016

BMC claimed that Kapil has a ground plus one storied property at Andheri. And Kapil made unauthorized construction on rear ground and added a second story to the property in July. BMC sent a stop notice for the same unauthorized construction. But when BMC didn't receive any reply of the notice, they demolished the unauthorized construction at Kapil's property on 4th August.
It pains to here experience of #KapilSharma to Slum Dwellers of Bribe @ Mumbai MunicipalCorporation V shall Free BMC from Rule of ScamMafias

— Kirit Somaiya (@KiritSomaiya) September 9, 2016
On Kapil's tweet many people supported him and said that he has done a good work by taking this matter in the light through social media. While, there are supporters some haters are also exists there. Some said that yesterday Navajot Singh Siddhu declared his own party, and today Kapil Sharma questioned on Modi ji. And everyone knows relation between Siddhu and Kapil Sharma. Actually, Navjyot Singh Siddhu recently left the political party BJP to join AAP, but he formed his own party. Which is not acceptable to the BJP politicians. As Siddhu is a Part of the Kapil Sharma Show, people are relating this matter with Siddhu. Many politicians appreciated Kapil's step. Yuva sena chief Aditya Thackeray also tweeted on Kapil's tweet "@KapilsharmaK9 thank you for being an alert Mumbaikar. Wld req you to assist Mayor and Mc to help in the drive against corruption." He also asked him to provide more details which will be required to take some strict action.
@KapilSharmaK9 thank you for being an alert Mumbaikar. Wld req you to assist Mayor and the MC to help in the drive against corruption

— Aaditya Thackeray (@AUThackeray) September 9, 2016
@KapilSharmaK9 would need the details of the officer and act be conveyed to the Mayor and MC to initiate action. @MCGM_BMC

— Aaditya Thackeray (@AUThackeray) September 9, 2016
Comments
comments